AmiBroker in India for Technical Analysis
Technical analysis is a technique for predicting the likely future price changes of security depending on market data, such as a stock or currency pair. The reliability of technical analysis is based on the idea that all market participants' aggregate activities – buying and selling – properly reflect all relevant data about a traded stock and, as a result, continuously assign a fair value to the security. Amibroker does the job
Technical analysis necessitates an expert understanding of various techniques, including charting and testing. Learning these techniques is not that much easy.
But what if you had ready-made software that did everything for you? It's incredible, isn't it?
AmiBroker is one such software that takes care of everything for you. Let's head on what actually it is & why we should use it for technical analysis.
What is AmiBroker?
Amibroker is a technical analysis tool to find, evaluate, and trade data. It includes rotational trading, enhanced position sizing, faster stock valuation, and backtesting. AmiBroker also comes with a large number of indicators and charting methods. Furthermore, the software's rapid and robust exploration tool allows predicting the future market to remain ahead of the competition. Overall, AmiBroker enables traders to reduce risk while increasing profit. 
Why Use for Technical Analysis?
AmiBroker comes with multiple features for users, including:
Automating Recurring Analytical Techniques:
 it allows you to automate technical analysis methods using macros and custom scripts. This is particularly handy for updating quotations and other time-consuming operations, such as making many charts.
Batch Processing Analysis: 
Traders may perform the same analysis on multiple stocks simultaneously using batch processing, enabling traders to take advantage of hundreds of different stock possibilities.
Using AFL (AmiBroker formula language): 
AFL allows running Custom-Written Trading Formulas. It enables traders to build their personal trading software for various applications.
Stock Scoring & Rating:
Traders may score and rank stocks depending on a range of factors, including trend strength, API responses, and so on.
How Much AmiBroker Costs?
AmiBroker software offers different pricing plans, including Standard Edition and Professional Edition. AmiBroker Ultimate Pack Pro is also available, that is a bundle of AmiBroker Professional Edition. AmiBroker does not come freely. So, it's advisable not to go for crack versions due to security reasons. Let's have a look at the different pricing plans & features, they offer.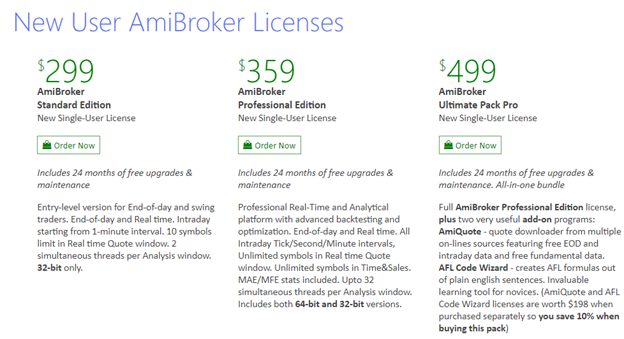 AmiBroker's licenses are perpetual, meaning you have to buy once and use the same version for the rest of your life. They also include free upgrades, support, and maintenance for a period of 24 months, allowing you to update to the most recent version at no cost during that time. All licensed users are also eligible for a 50% discount on upgrade purchases made after the free upgrade period has expired.
AmiBroker's Advantages:
Here are a few reasons why AmiBroker should be your technical analysis and charting software.
Free premium trial for 30 days
Capabilities for working offline
Quickest Tool for Technical Analysis of Stocks
Easy-to-use tools and a user-friendly interface
Availability of various Technical Indicators
Exceptionally Customizable
AmiBroker's Disadvantages:
AmiBroker is all-inclusive technical analysis tool, although it does have certain limitations. These are:
No built-in data stream
No free version is available
Lifetime Membership only
Most common FAQs:
Q. Is it possible to get a free AmiBroker demo?
A. You may get a trial version for 30 days. If you wish to keep using the application after that, you must purchase a license.
Q. How long is the validity of the license?
A. AmiBroker's licenses are perpetual, meaning you have to buy once and use the same version for the rest of your life.
Q. How might AmiBroker software be used to evaluate stocks for prospects?
A. AmiBroker's Exploration is a screening tool that generates a highly configurable tabular report with many rows and columns, including all symbolic data. This aids in the scanning of marketplaces for potential possibilities.
Download Amibroker Data Feed Fee Demo